JOIN US TO

LEARN HOW TO FIGHT BACK AT OUR WOMEN'S SELF DEFENSE WORKSHOP
We invite females from age 13 and up to this Workshop to learn how to respond to the real world extreme threat females face today.
(Younger girls should not attend due to the graphic subject matter we must cover.)
The tragic fact shown by this statistic: "1 in every 4 women are assaulted in their lifetime" has created a demand for planning ahead to become your own first line of defense.
You are worth fighting for and our workshop will help you learn how to Fight Back!
Our Workshop will be held at the Studio on Sunday, Nov. 18th from 2 PM to 5 PM.
The address is 2345 Murray Avenue, Squirrel Hill, PA 15217. You should wear workout clothes.
The admission is $5 which will be donated to the Women's Shelter. Be committed to yourself becoming equipped and empowered!
You will get to know many of our women Krav Maga Members as they assist with our defensive drills. You will be inspired as you see their excellent demonstrations.
You will also get a complete packet with an outline and additional materials to review.
We invite you all afterward to try a week of our regular Krav Maga classes as a guest, because we know you will want more!
To register for this workshop, please click the FIGHT BACK button: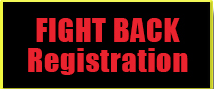 Here is a short video from one of our Instructors regarding Women's Self Defense and Krav Maga!

Instructor Kelly: "I believe Krav Maga is the perfect self-defense for women...."
Please Tell Every Female You Know and Love! We hope to see you there!

Sunday,
November 18, 2018
2 PM to 5 PM, Admission $5